Located in Dongguan city of China Zolytech Machinery Co., Ltd is a hi-tech enterprise, which is professional in manufacturing mattress machines. The company participated in Sleepwell Expo Istanbul 2017. We made an interview with Cameron Luo of Zolytech Machinery during Sleep Well Expo 2017 held 19 to 22 October 2017.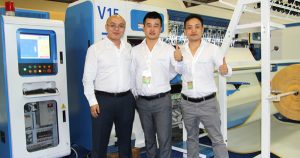 Can you briefly introduce you and your company?
My name is Cameron Luo. I am from China. My company name is Zolytech Machinery Co., Ltd. My company is specialized in Computerized Quilting Machine and Mattress Spring Machine for mattress industry. Zolytech Machinery Co., Ltd located in Dongguan city is an Hi-Tech enterprise, which is professional in manufacturing mattress machines. At present, our main products include Computerized Chain Stitch Multi-Needle Quilting Machine, Computerized Lock Stitch Multi-Needle Quilting Machine, Panel Cutter Machine, Automatic Spring Coiling Machine, Automatic Spring Assembling Machine, etc.
After more than 10 years' development, we have brought in advanced production line, and built up complete quality control system, professional global sales network and aftersales service system. We have obtained ISO 9001:2000 certificate and all our products have passed the CE certificate.
We have built up one outstanding R&D team, which is strong in both machinery and software, focusing on the profound development in production for adopting the latest technology to our machines.
And we also have built up a professional international sales team and an 24 hours on-line aftersales service team, thus we can provide prompt technical support and after service for the customers around the world.
We have enjoyed a high reputation in the world with its high efficiency, easy operation and steady p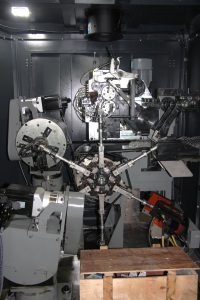 erformance. The products have been sold abroad to Asia, Europe, America, Africa and Middle East, etc.
Excellent quality management, prompt aftersales service and ongoing innovation are our permanent pursuit. We will continue to work with input from customers, so as to continue to make the better machines for the future.
How is your fair?
This is the first time we attend this fair, I think it is great, we will come next time. Guiding raw materials, mattress main industry, supplier industry and machinery investments of the sector; the fair features as the most inclusive fair for mattress main industry, supplier industry, machinery and equipments in both Turkey and Eurasia Region. The most important international sales and promotion condition of the Turkish mattress sector, the fair has a noteworthy place in the mattress production across the world. It is an opportunity to open to the foreign markets for the small and medium sized firms.
What are differences between Chinese and Turkish expos?
You know the Chinese market is the largest market in the world. Sleepwell Expo is professional, we like it.
Why do you participate in this fair?
We are going to develop of the Turkish market, and secondly Turkish market have an impact on Europe and Middle East. We want to develop the European market through Turkish market. This fair offers opportunities to meet with the sector professionals and purchasing officials who come from various countries of the world such as European and Middle East regions.