3A Tekstil, producing materials on bedding and sleep products, went about for the solution of raw material need and import, which is one of the biggest problems of the sector.
We talked to Muhammed Alkurt, one of the company's partners, about the vision, production processes, export range and R&D studies of 3A Tekstil.
Can you tell us about your history and the story of your company?
After working for more than 10 years in various companies both at home and abroad in the mattress and sleep sector, we established our own company in 2017 to offer special services and products to the mattress sector. Since then, we have been serving the sleep industry with various products we have developed and designed entirely by ourselves.
You produce materials for the mattress sector. What materials do you serve? What processes do these materials go through while being produced?
Our company offers various products to domestic and foreign companies, producing mattresses and sleep products. Our product range is very wide and we are producing various bed covers, sleeping pads, specially designed pillows and sleep products made of different materials, CNC sponge, sandwich mattresses and pillows.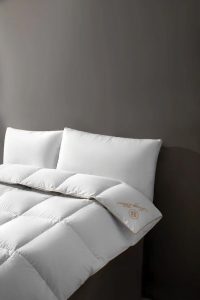 Do you experience raw material problems in production processes? Can you mention?
In our production process, we are using a wide variety of raw materials from both domestic and foreign sources. As we do not violate product standards, we are sometimes having difficulties in supplying some products.
Will you invest in other products, making up the components of mattress in the next years?
Our company carries out R&D and investment studies for the production of some raw materials imported from abroad, the industry needs in the coming years.
Which companies at home or abroad do you work with or are in close contact with?
Generally, we are serving most of Turkey's leading mattress manufacturers. In addition, we serve many mattress manufacturers in countries such as Germany, Israel, Belgium, Netherlands, USA, Switzerland and Denmark.
Which countries do you export to? What are your export targets in the new year?
Our company is making export to many countries. Some of them are Israel, Germany, Switzerland, Macedonia, Kosovo, USA, UK etc.
Finally, is there anything you would like to add?
Although the mattress and sleep sector is a rapidly growing and developing sector in the world, the demand for the products produced in Turkey is increasing day by day. Companies that analyze this well and increase the quality of service and product will grow very quickly. For this reason, we believe that organizations and fairs that will develop this sector should be held much more frequently.