We talked to Philipp Maeder, Head of Global Sales at ALFA Klebstoffe AG which is the owner of the Swiss origin adhesive brand SIMALFA®, about the general characteristics of the company.
Can we get general information about your company?
ALFA Klebstoffe AG, an innovation-oriented family business, places the development, production and distribution of water-based dispersion adhesives and hot melts at the center of its activities, thereby creating significant benefits for its customers in terms of the economic and ecological design of bonding processes.
ALFA Klebstoffe AG was founded 50 years ago in 1972 by Emil Simmler. He developed and marketed environmentally friendly, innovative and forward-looking adhesives, thus helping water-based adhesives to gain market volume worldwide. From the very beginning, the visionary company founder focused the company on innovation, and his know-how still shapes the further development of the products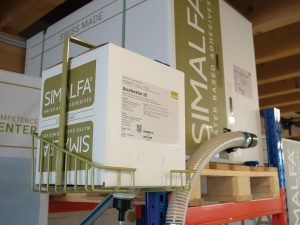 today.
In the field of water-based adhesives, ALFA Klebstoffe AG is one of the market leaders today. Particularly in the foam processing industry, the SIMALFA® range is regarded as the international standard, as top quality products and as trend-setting.
In addition to dispersion adhesives, the company also offers hot-melts, which are used in a wide variety of industries, such as the packaging industry or for mattresses.
The products are tailored to the needs of customers. The company works closely with customers and incorporates their wishes into their innovations. "In this way, they are close to the market and are considered a pioneer when it comes to the further development of water-based adhesives." so  Maeder.
Their knowledge in the field of water-based adhesives goes beyond their own product range. ALFA Klebstoffe AG offers its customers complete solutions that optimize the entire bonding process and provides them with sustained and continuous support in optimizing their workflows.
The adhesives are produced completely free of solvents. The company strives to minimize the worldwide consumption of solvents and thus to sustainably improve the workplaces of the users and to provide a safe and healthy working environment.
In this way, the adhesive solutions make an active contribution to environmental protection.
As a leading manufacturer of environmentally friendly, solvent-free adhesives, ALFA Klebstoffe AG intends to continue offering customers innovative products that set new standards, are environmentally friendly and provide direct added value.
"Our ambition to minimize the worldwide emission of solvents, to open up new markets and to support customers on site with our products and our know-how is the driving force behind our actions," says Thomas Simmler, CEO of ALFA Klebstoffe AG.
As a market leader and pioneer, ALFA Klebstoffe AG sees itself in a position to accept this challenge and the associated responsibility in order to be able to continue to create better, safer and healthier workplaces for its customers in the future.
What is your production capacity this year? How much do you plan to increase the capacity in the new year?
We produce sustainable adhesives in the five-figure ton range, and we are experiencing a continuous growth worldwide.
Can you mention your export range?
Today, more than 70 employees work for ALFA Klebstoffe AG at Rafz, Switzerland . Production takes place in Rafz as well as in New Jersey (USA) and the products are exported to more than 90 countries. In addition, the company has subsidiaries in China, Poland and Germany and a worldwide network of distributors.
Do you have new investment plans in the mattress industry?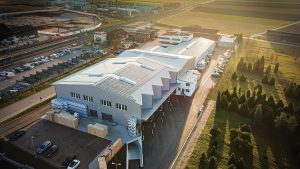 In 2020, ALFA Klebstoffe AG became the world's first adhesives manufacturer to release a circular economy ready, Cradle to Cradle certified adhesives portfolio for the packaging industry. For the mattress segment, we have also developed new recyclable products including CR-free adhesives, and we offer a range of bio-based hot melts in our adhesives portfolio. The future lies in products that support the sustainability initiatives which have been launched by many of our customers.
"Our ambition to minimize global solvent emissions, reduce our environmental footprint and support local customers with our products and know-how is the driving force behind our actions," says Simmler.
Also, in 2020 ALFA Klebstoffe AG has opened the world's first competence center for foam bonding, the "SIMALFA® Competence Center", at its company headquarters in Rafz.
The SIMALFA® Competence Center is designed to map the entire bonding process on a production scale. For this purpose, the Competence Center has been equipped with a complete full-size roller line in addition to all the equipment for adhesive spray application, so that, for example, the production of a mattress can be reproduced from the cut foam parts to the roll-packed end product. Other applications and numerous adhesive conveying methods can also be tested.
Customers and interested parties benefit from the competence center not only in terms of knowledge transfer, but also primarily because adhesive solutions can be tested, compared and evaluated without having to interrupt their own operations. For this purpose, the samples to be bonded are sent in advance to the SIMALFA® Competence Center and bonded on site together with the customer, if desired. Thanks to the latest camera setup, online demonstration is also possible. For this purpose, the bonding process is carried out by SIMALFA® experts and transmitted live. This service is a market first and offers customers and interested parties not only enormous time savings and security, but also financial benefits.
Will we be able to see you in domestic and international fairs in the new year? Which fairs will they be?
As every year, our company participates in numerous trade fairs around the world – if the COVID 19 situation will allow it. For example, at the new IBIA Expo in Istanbul in October. The SIMALFA® team looks forward to meeting and showing you the least product innovations you there.