Turkey's one of the two companies engaged in the manufacture of knitted strip the beds, Simiteks participated in Sleep Well Expo held for the sixth time this year. The company, which produces mattress strips and flexible bands are the main items in the production of mattresses and furniture, presented its solutions developed for the mattress sector at the fair.
Tamer Ergin, an official of Simiteks, which is the world's first and only elastic band manufacturer, said that their products are not visible directly by consumers but these products have a significant impact on human health. Ergin stressed that strips must carry the ISO 9001/2015 quality certificate.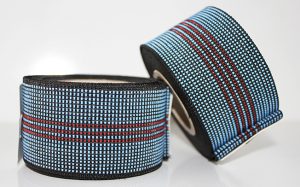 "Domestic production and export are important for our economy"
Tamer Ergin, said: "We produce mattress strips to be used on the rounded edges of elastic bands and mattresses, which are the main items in the furniture sector but are not visible to the final consumer. In Turkey, we are one of the two companies that manufacture knitted strips for mattresses."
Ergin said that 2019 was a year of economic problems in general. "Our priority in this case is the satisfaction and permanence of our existing customers," he added.
Stating that domestic production and export is important, Ergin said, 'We export 40% of our products. Our strips have a ten-year warranty and the required quality certificates. We export to Brazil, Chile, USA, UK, Germany, Italy, France and Balkan countries. In our raw materials, only the rubber used in the production is imported and all other materials are our own production."
#bed supply industry, #simiteks, #raw materials, #bed, #mattress sector,