Elektroteks was founded in 1990 by engineer Osman Guler to develop electronic and software solutions for the textile industry.
In 2003, Elektroteks transformed its field of expertise into the production of mattress and quilting machines with its extensive knowledge gained in partnership with different machine manufacturers in various sectors.
In 2004, the company pioneered many innovations such as first double-needle producing continuous quilting machines in Turkey. It is progressing with the participation of the mattress industry by having years of experience and 2nd generation of engineers in beds, taking confident steps towards becoming a leading manufacturer of quilting production technology in Turkey.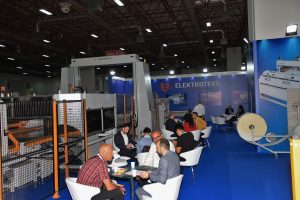 This year, the company took part again in Sleep Well Expo
Sales Manager Baran Ozis said, "We took part in the fair with bed packaging machines which we are focused on. In addition, we exhibited bed glue lines, roll pack machines and side border machines at the fair. In the global framework, 2019 is a positive year for the bedding sector. Unfortunately, this is not the case for Turkey. We follow the fairs in order to keep the pulse of the global market and follow the developments closely. We will continue to participate in fairs such as Interzum and ISPA in 2020."
#machinery, #tech, #sleeptech, #sleepwellexpo, #elektroteks, #ispa, #2003, #engineer, #yatak,#yatakteknolojisi, #yataküretimi,