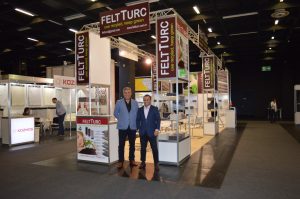 Mustafa Kiper, Company partner of Feltturc shares his impressions about Interzum Cologne:
"Interzum is a very important event for the mattresses industry. We wait every 2 years for this exhibition. Easily we can say that it's the main exhibition for mattresses and furniture exhibitions. In my opinion, Interzum 2019 had some changes. For this reason, there were some disappointed points. Number of visitors was not enough as the previous exhibition. We wish it will be better next time. Altogether, Interzum 2019 was a good chance to exhibit our new products. Our new line is producing special felts and waddings for the mattresses industry. The mattress industry is converting more to pocket spring mattresses and we produce special felt & wadding for pocket spring mattresses.
Interzum is a prestige exhibition. So each company should exhibit this exhibition for their international aims. They could have new ideas and new areas for sales.
Turkey and specially Kayseri is the heart of mattresses industry components. All companies try to improve their quality and service day by day. This is very good chance for Turkey to export its products to the different countries. Turkey passes from difficult period and the only way for exiting of this situation is producing high quality products, having good service and competitive prices."
Sharing Feltturc's opinions about very important fair, Mustafa Kiper mentioned about contribution of Sleep Well family for the mattress industry, too. Mustafa Kiper, Company partner of Feltturc underlined that important of Sleep Well Expo and Sleep Well Magazine works with these words:
"Special thanks to Sleep Well Magazine's kind attention and following the international events for the mattresses industry. Sleep Well family provides great opportunities to all mattresses components producers in Turkey and other countries. We believe that Sleep Well's success will increase day by day. We are happy that we have been supporting Sleep Well under all conditions."
#sleep, #tech, #day, #company, #impartant, #service,