Mert Makina has progressed successfully in the sector 'mattress production machinery' for more than 22 years. The brand Mert Makina has become one of the most known and reliable firm among the mattress machinery manufacturers. Mert Makina's strategy towards the customers and manufacturing processes helped a lot to match the brand name to trust, high quality, and innovation.
Mert Makina has managed to export 90 % of their production to numerous countries. They have more than three thousand machineries operating in the mattress production industry throughout the world. Their target is to raise this rate up to 95 % at the end of 2016. Mr. Mustafa Nebi Doğan, Sales and Marketing Director of Mert Makina, said that they reached their target for the year 2016 by exporting to 70 different countries and is proud to say that they reached 80 coountries in the first half of 2017. He also added that their market are mainly in Europe, Middle East, North Africa, Russian Federation and Asia.
Their company is specialized in "Full Automatic Mattress Finishing Line", "Automatic Hotmelt Glue Line with Conveyor System" and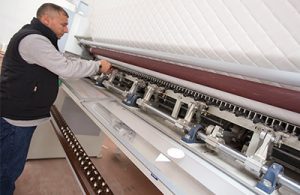 "Turnkey Projects" as well as providing technical services and assistance after closing the deal. Mert Makina has recently been focused on automatic mattress manufacturing lines in order to decrease the operational costs and to increase the quality of the products. "Mert Makina's high quality is combined with the latest technology, which makes the mattress production a simple job", is what their customers say. The inception of relieving starts in your mind. The first thing Mert Makina does to show you how many mattresses you can produce a day with the lowest costs. They are firstly demonstrating the manageable aspects and continue to prepare a perfectly fitting project according to your factory's layout. A guaranteed customer satisfaction awaits you at the completion of the project. They explain all the steps of the mattress production with the required hygiene on the mattress during these years. Their system maximizes the occupational health and safety measures.
Many stories could be written about the doubling of capacities with Mert Makina's machineries. Automation is covering all our life nowadays and unfortunately those who ignore to move without this innovation won't be able to succeed in business. Imagine producing a mattress within minutes, this will spectacularly lower your costs and the time spent. Mert Makina has managed as a team to make this dream come true. As they were one of the first manufacturers that produced automatic mattress production lines, they have become an experienced company and know all the crucial benefits which cannot be ignored, and they use it to assist their customers towards better, faster and stable production. They continue to provide you with the necessary information about the mattress production procedure.
Mert Makina is also very well known for all other Mattress Production Machineries, such as Quilters, Wrappers, Edge Tapers, Coiler, ad Assemblers. The company has been producing these machineries for over 22 years now.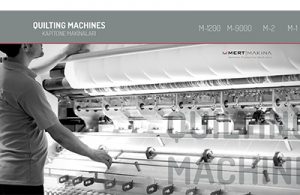 In the early years of Mert Makina, a faultless Mechanical Multi Needle Quilting Machine was well inspired by the biggest mattress, sofa, and bed linen manufacturers since this first machine was able to sew the thickest materials used by these sectors with the perfect stitches. Couple of years later, Mert Makina has embodied its experiences to the mechanical model. It was one of the first quilters to work with a computer, allowing the operators to choose multiple designs in no time. This machine is developed with the fully computerized Multi Needle Quilting Machine.  Thanks to its brilliant history, Mert Makina has done a perfect work as an outcome.
After long R&D works and exchange of know-how among the Mattress Manufacturers, Mert Makina is plans to continue innovating for Border Machines, Packing Machines and also Wire Forming Machines.
On the other hand, the new Double and Single Head Quilting Machine of Mert Makina has one of the highest speeds with lowest vibrations on the planet, which is tested during the exhibition and observed by visitors how it works stable on 3000 rpm speed. The new generation Single & Double Head Quilting Machines of Mert Makina seemed to be a mixture of know-how, European Raw Material Quality and long term experience of Multi Needle Quilting Machines.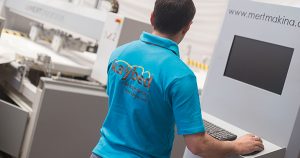 Every customer is a project for Mert Makina. They are both friends and business partners with their customers and a guide showing all the developments and new opportunities in the sector for their clients. Transferring the knowledge is an easy task for Mert Makina, the knowledge comes from the heart of Mattress Business itself and let them make more operator-friendly machines. This has a headache-free outcome and provides more easiness. Mert Makina should be considered as a model to competitors with this kind of development and innovations.
#guncel