Durak Tekstil, which started its journey in the sector in 1972, has constantly been developing with its domestic and foreign facilities. The company, which is appreciated by everyone with its employment power, contributes to the country's economy with the new products it has produced. We talked about the past and present of Durak Tekstil with Ali Yiğit Durak, Member of the Board of the company, which increases its export target step by step and is open to development with its wide variety of products.
What are the important turning points in Durak Tekstil's sectoral journey?
We are the first manufacturer of polyester embroidery yarn which is very important for our industry. Considering the trade in the past, service and supply issues did not satisfy the market as much as today. It was a great advantage to be able to produce with a local product and not be dependent on the imported product in such a market. In the 80's, concepts such as global trade and internet did not exist yet. The establishment of our first partially-oriented polyester yarn (POY) facility made us independent in the 90's, bringing our production flexibility to the highest level. During those times there was no global trade and some resources were very difficult to access. Raw material producers were able to produce a small part of the demand in the market. The demands by the customers were intense and the workforce was low. There was a limitation on the product. This situation was not according to Durak Tekstil. With the establishment of the POY facility, Durak Tekstil became completely independent of raw material suppliers. Therefore, we used the raw material we wanted. We do not have any problems, especially in the supply of thin yarn.
How was your approach to technology after the first period of the production phase? What kind of R&D processes have you gone through?
There are many points that we are inspired about R&D. R&D is indispensable for us. We are in contact with machine manufacturers and technicians at home and abroad. We follow advanced systems closely. We make additions to these developments from ourselves. Many brands and machines support the bottom yarn system developed by Durak Tekstil. We are working on technical product development with faculty members at Uludağ University. We have a new market thanks to our conductive product design that appeals to both the security and technology sectors. We also follow the current developments in the military field. In particular, products such as camouflage that have invisibility in different lights are in demand. We try to produce products that change color at temperature and are suitable for filtration systems. We do researches on the food industry and healthcare industry, and we are inspired by these sectors.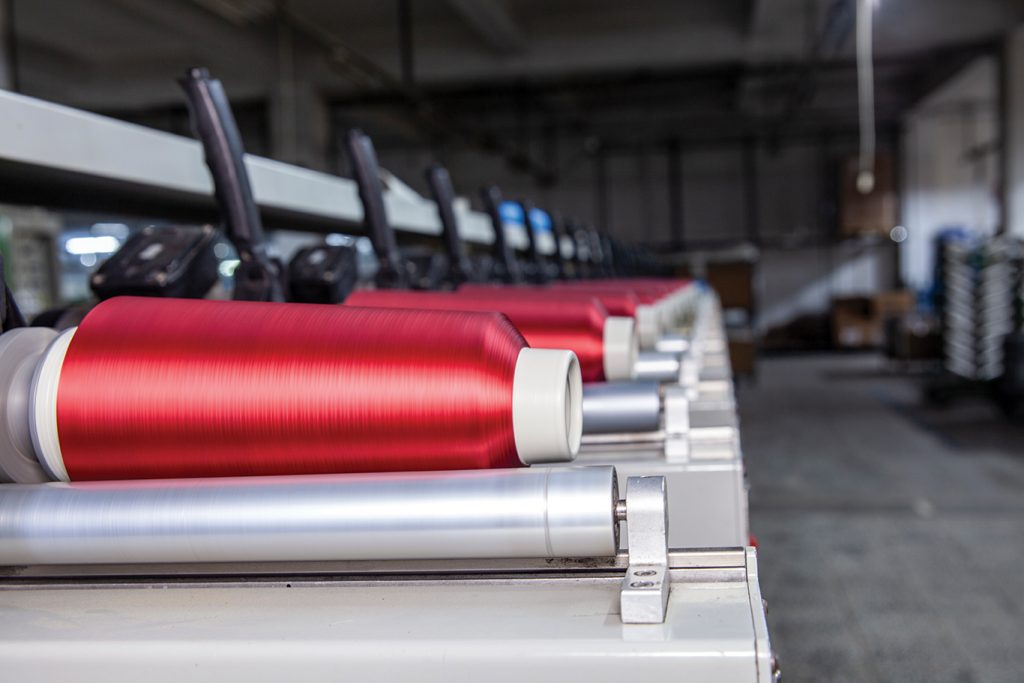 What can you say about Durak Tekstil's production power, capacity and product range? Could you give information about the workforce?
Durak Tekstil has 2 production facilities in Bursa and China. We have 3 sales / storage facilities in Istanbul, Austria and Poland. In addition, we provide services with approximately 350 personnel in more than 70 countries through domestic / international sales channels. With our flexible production line, we continue to produce an average of 250 tons per month.
How is your stitch and embroidery yarn production process going? Which stages do you carry out in your facility?
Our products are carefully evaluated by our raw material inspection team. With our 100% controlled raw materials, our POY facility gives us confidence in raw materials. Our raw materials then go through processes such as folding, twisting, fixing and painting. Finally, our products are wrapped in bobbins and packaged in the machines in our finishing department.
What are the prominent markets in your product portfolio?
Our product portfolio is very diverse. Of course, the density is higher in some of our departments. Ready-to-wear / apparel industry is in the first place. Especially the mattress and furniture industry has developed very rapidly in recent years. On the other hand, we have high quality products. Among these, we continue to produce productivity-enhancing products and safety products (flame retardant, cut resistant, etc.) that we have developed. We think that we need to care about technical products to be a successful brand.
What points do you focus on in technical applications in stitch and embroidery yarns? What are the technical advantages of your yarns?
We can apply various technical finishes to almost all of our products. Among these, there are techniques such as water repellent, static electricity conducting, UV resistant, delay flammable special painting. We do these techniques with the raw material and lubrication methods we use. We produce technical textiles such as air balloons, sails and waterproof products. In addition, we have some products to increase production efficiency in both embroidery and stitch machines. Our Duma and Duraless products bring a different perspective to the bottom yarn system used in hooks. It takes about 3 times more yarn than traditional reels. Following these developments, we improve our production process by providing longer working time.
I know that you invested at the beginning of 2021. In which areas did you make your investments? Let's talk about this a little bit.
We updated our machine park at the beginning of 2021. We added machines especially to the sections where the demand is high. In this way, we increased our production capacity by approximately 50%. These investments will return as a good service to our valued customers.
Your investment processes continued despite the pandemic period. What kind of vision do you have about these investments in the future? Where will Durak Tekstil be positioned in the sector in the next 5 years?
As Durak Tekstil, we have a word to our customers; we will continue our production under all circumstances. This phrase is a phrase that needs to be underlined and contains serious meanings. Therefore, we found alternative solutions to our production process. We are a company that is sustainable and has principles. This situation will continue in the next 5 years. In the future, we want to increase our foreign trade and grow with a focus on foreign trade. We work with all our strength to be a good brand.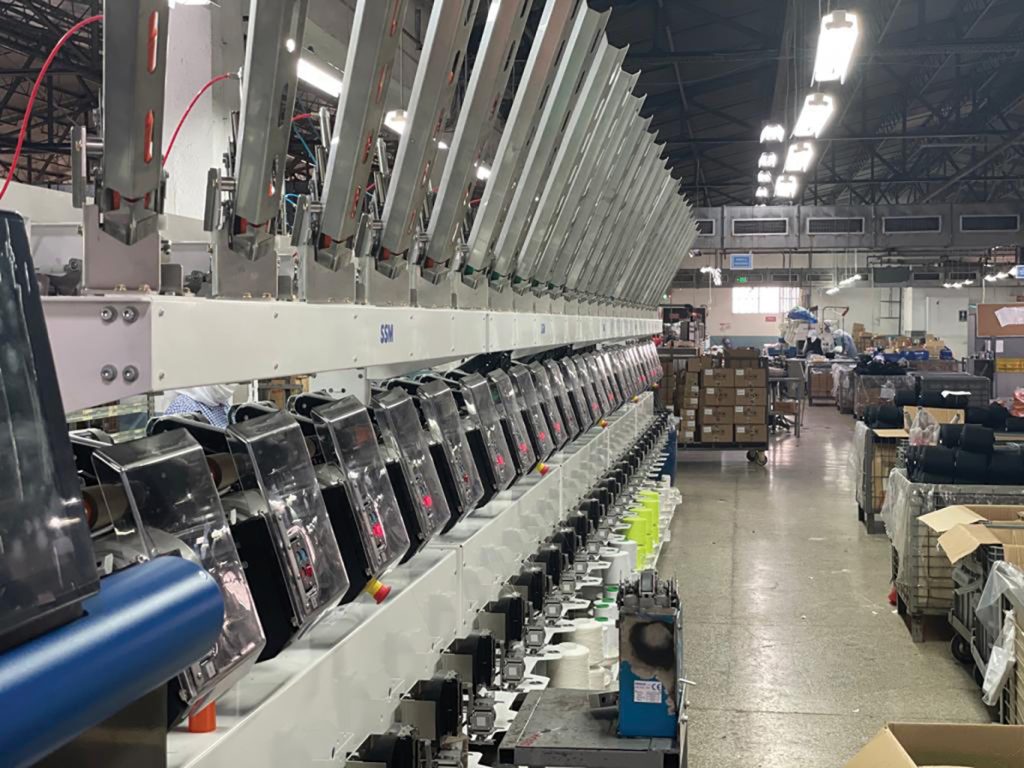 What does Durak Tekstil do about sustainability? How much of the recycled plastic raw material is in your production chain? I wonder what developments are you in this regard.
Although recycled products are a new subject for our age, Durak Tekstil's environmental and sustainability research started in the past. Our activities such as planting are among the activities we have done since the establishment of our company. First of all, we balance the wastewater coming from our production and dyehouse in our treatment facility. Then we send it to the infrastructure of the municipality. We use completely renewable energy in our production facility in Bursa. We supply our recycled raw materials from 100% reliable sources that are fully certified. We present our entire polyester and nylon product range with recycled alternatives to our customers.
I also want to talk about aramid fiber. How is your work on aramid fiber progressing? In which areas do you use aramid fiber and what kind of benefits does this fiber have? In addition, I think it is very important that aramid fiber is produced by a Turkish manufacturer.
Aramid is a very strong and durable synthetic alloy fiber used in bulletproof vests. Aramid fibers have a high resistance to heat. For this reason, it is heavily demanded in the occupational safety sector. Aramid fibers burn when exposed to flame, but unlike other fibers, the flame goes out quickly and turns into ash. Aramid fibers do not melt and physically change when exposed to heat. Such techniques by producing products of domestic brands contributes to the production of military equipment and security equipment in Turkey. These productions are productions that support development. We know that we contribute to our country in these matters and we are very proud of this situation.
What kind of growth do you expect in the market in 2021 and 2022? What are your goals in this matter?
Our biggest expectation for 2021 and 2022 is to continue our growth abroad. Currently, we make half of our sales to the domestic market and half to the foreign market. We aim to increase the export rate to 60% in 2021 and 65-70 in 2022. In this context, we expect a great increase in our technical products and embroidery products within the sectors we sell. Another goal is to increase the number of brands we work with as an approved supplier.