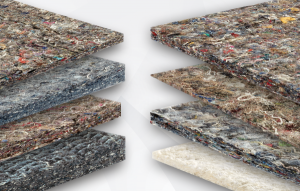 Mustafa Kiper, company official of FELTTURC, a respectful brand in felt manufacturing, conveyed his evaluations for 2020.  
How was 2020 for FELTTURC? How did the pandemic affect your company?
2020 was a very good year for FELTTURC-Kaliteks. Our company grew more than 25%. Despite all the negativities at the beginning of the pandemic, we focused to make all sacrifices for our employees to continue their work. We have achieved a great momentum by preserving the current customer portfolio and adding new ones to it. 2020 has passed very well. In this process, we would like to thank our valuable customers and employees. We think that we turned the crisis into an opportunity.
Does the use of felt in the mattress industry increase?
There is no other alternative of felt and padding in the mattress industry. We do not think that alternative products for felt and padding will be developed in the near future. A quality felt is the most important structure of a quality and long-lasting mattress. We recommend our customers to use high density and quality felt.
How many mattresses are produced with your products?
Our company manufactures felt for 5 million mattresses annually. We consider our valued customers as business partners and we take it as a principle to contribute to their success by providing them with good quality, reasonable prices and good service. For this reason, we have been working with our business partners for a long time.
What is your main target for 2021?
Our company has been continuously growing from the day it was founded. In 2021, we aim to continue our growth and to be one of the organizations that shape our industry. We will make new investments in 2021.
What would you say about the future of the mattress industry?
We anticipate that the mattress industry will continue to grow. This pandemic has also shown that a healthy sleep is one of the most important elements of a healthy metabolism and psychology. For healthy sleep, people prefer to sleep in good beds and this trend increases the demand for quality sleep products.
What are your thoughts and expectations about the association to be established on the mattress technologies and sub industry?
We think that this association will lead the industry, and contribute to Turkey to have a greater voice in international market.