Durak Tekstil, attending the 16th Istanbul Apparel Conference, attracted attention with its conductive threads that enable smart textiles and wearable technologies, as well as its sustainability-oriented vision.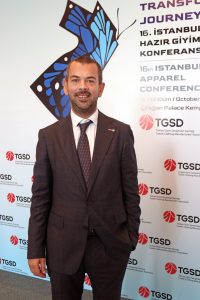 Durak Tekstil, a leading manufacturer of industrial sewing and embroidery threads, sponsored the 16th Istanbul Apparel Conference organized by the Turkish Clothing Manufacturers Association (TGSD). Organized for 2 days at Çırağan Palace Kempinski, important presentations and sessions took place on the first day of the event, while companies held B2B meetings on the second day.
Saying that they contributed to this event, which brought together the entire supply chain of the apparel industry, as a stand sponsor, Durak Tekstil Board Member and Marketing Director Yiğit Durak stated that they were pleased with the interest in the conference and that they were pleased to come together with the sector. Durak noted that important topics for the sector were discussed at the event and explained that the business meetings they held at their booth on the second day were also satisfactory for them. He indicated that they prepared their booth and product presentations with a special theme titled "Conductive" and continued his words as follows; "As Durak Tekstil, we have a wide range of products that appeal to different sectors. Garment and apparel segments have enormous potential for us. To get more share from the apparel sector, we focused on offering innovative products developed by R&D to all stakeholders of the sector. For this purpose, we presented our product perspective consisting of three pillars: art, technology, and nature, with functionality as an intersection point. We shared the functional features of our products with manufacturers, designers and academia."
Durak pointed out that meeting with the apparel and fashion world as a thread manufacturer also reflected positively on their branding efforts, noting that their R&D efforts paved a new path in the technical products segment. He said; "While increasing our brand awareness, we want to stand out not only with our quality in standard threads but also with our innovation power. Smart textiles and wearable technologies are the most talked about topics in recent years. Conductive threads are indispensable for these innovations. Our Silver Pro thread, which is the fruit of our work on this subject, will create an infrastructure for digital studies. This thread will be one of the keystones for further value-added development of the sector and industry professionals will be able to explore numerous different new application areas."
"Our vision and mission is to do better in the best way"
Explaining that approximately 20-25% of their total turnover is provided by technical threads today, Yiğit Durak emphasized that they aim to increase this level even more in the coming period. He remarked that Durak Tekstil is also sensitive about sustainability, reminding that in addition to the benefits provided by the recycled threads in their portfolio, the necessary steps have already been taken to protect the environment in production processes. Saying; "End users in the fashion and clothing industry are now paying attention to whether these products meet sustainability criteria as much as the quality products they want. By participating in the conference, Durak Tekstil once again showed that it can be the most important partner of the sector," he continued his words as follows;
"While preparing the apparel industry for the demands of tomorrow with our technical threads, we focus on protecting our world and human health with our sustainable products and production process. As a company with 50 years of deep-rooted history, we continue to develop without compromising the principles inherited from our founders. I can summarize our vision and mission as doing better in the best way. Durak Tekstil, saving the industry 50 years ago from foreign dependency by producing fishing net thread, focuses on innovative products that are exactly what is needed while the apparel industry is going through a digital transformation. In this context, the Istanbul Apparel Conference was an ideal platform to showcase this stance."
Durak explained that they are planning to support the conference next year by adding that they would like to make an exciting presentation especially on the new technical threads they have completed the development of.