Focusing more on the domestic market in terms of raw material supply, the company also follows various technological developments to increase the comfort in spring production.
İşbir Spring, which does not compromise on quality and continues its work with great devotion, has been serving its customers since 1968. İşbir Spring, which attaches importance to the technological products it produces, also draws attention with its "Polymer Spring" technology, which was made by Turkish engineers only for İşbir Spring. We talked to Metin Gültepe, the CEO of İşbir Holding, who keeps up with the innovations of the age and always aims to be at the top of the sector. Gültepe answered the questions we asked about its products and targets.
What types of machines will you use in the production stage and what will you be most cautious of during production?
We will be using machine types like digital package spring machine, digital package spring stringing machine and roll-pack machine, with which we can conduct different processes at the same time in spring production. These machines have been procured from suppliers that are experts in the field and known throughout the world.
In terms of our production approach, what we emphasize here is productivity and quality. Our İşbir Spring production facility will be built according to production principles and the products that are produced here will be at İşbir quality standards to ensure this.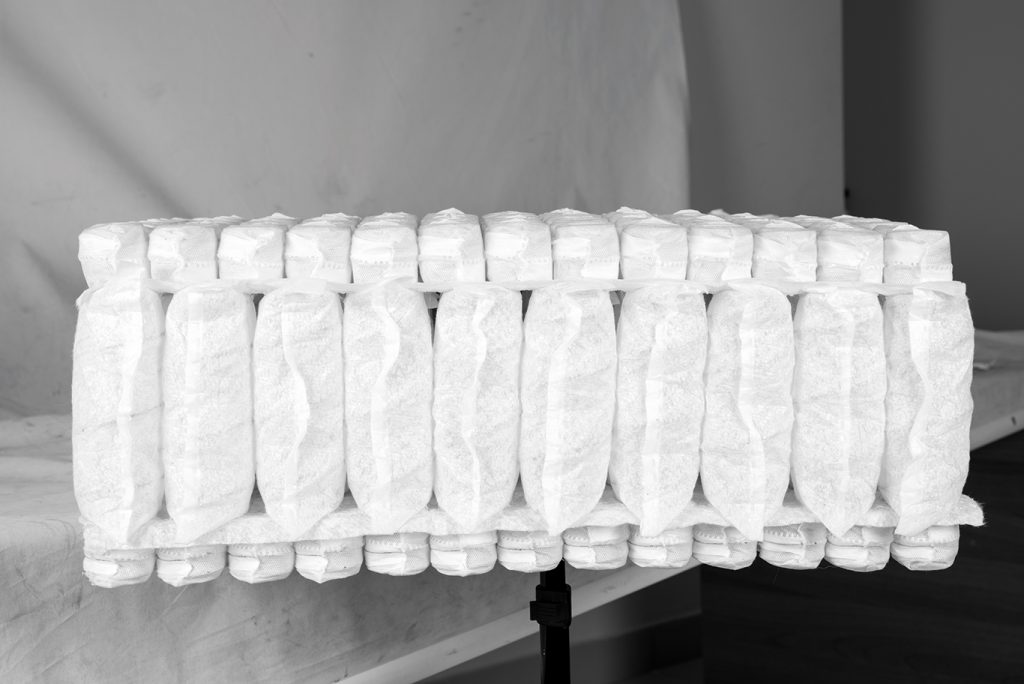 What do you have to say that is specific to springs? What kind of work will you do and what segment will be you producing springs for? Can you provide comprehensive information about this?
We plan to produce combinations of springs that have varying height, dimension, resistance and flexibility with the machine park that will be installed at İşbir Yay.
We also aim to develop smart zone package spring combinations that adapt to the spine and act according to different pressure points of the body.
With the work done by our R&D team, we will underline our presence in the sector again with new varieties of products and never previously applied combinations.
Have you identified your target market? Will you be focusing more on the domestic market or the international market?
Primarily we will be focusing on the framework of İşbir Yatak products and fulfilling our own needs. In addition to this, we will work towards making the İşbir Yay brand the raw material supplier of the market. We will be targeting mostly the domestic market in order to do this.
What kind of R&D work do you have and what kinds of innovative products are you planning? 
We will put emphasis especially on making the springs we produce more superior quality with the help of scientific studies. Through new work and experimenting with different combinations we will achieve comfort enhancing products.
We are currently working on this together with an engineering group. We have started producing some measuring instruments for this purpose.
How will you procure raw materials?
The necessary connections have been made at this time. We will be working with domestic producers that meet the İşbir quality standards.
What kind of goals do you have in terms of exports and what countries and regions do you want to sell to the most?
We want to sell the mattresses, in which use the package springs, to Europe and the Middle East. By utilizing the networks or the relationships we have established through in-person meetings, we want to increase our sales and increase the share of exports in our total turnover.
I would like to conclude our interview by asking your general goals for the sector.
We have observed the demand for mattresses and other sleep products rise during the pandemic. Consumers finding out the positive impact of a good sleep on immune system health and rising awareness for sleep health and mattress selection play an important role in this increasing demand.
We believe this and many other innovations related to the sector will set many postponed purchases into motion and increase the demand even more in the days to come.
The continuously increasing interest in online commerce is also a current issue. We are developing new strategies for this online shopping that has become the trend in this new world.
We especially expect growth in the brand name products market.