Tayyip Tanrıöven, CEO of Mattregate, stated that the Turkish mattress industry has gained a momentum that started to rise again as of 2023 and that it will develop further with the influence of interzum Cologne.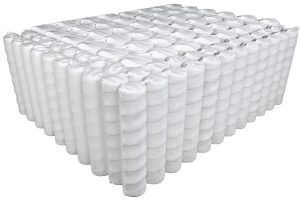 Explaining his expectations and predictions about the fair, Tayyip Tanrıöven said that they expect that the postponement of the interzum Cologne Fair due to the pandemic to have a positive effect on the fair to be held in 2023 and that they expect a large number of visitors to come to the fair to be held after 4 years. Stating that the fair will have positive effects on both Mattregate's exports and the Turkish mattress industry, Tanrıöven predicted that the mattress industry will gain momentum again.
What are your expectations from interzum Fair?
In the last quarter of 2022 and the first quarter of 2023, Mattregate has increased its power and developed both its product range, machine diversity and R&D studies with great devotion. Although it plans to participate in sectoral fairs organized in the country and globally, it also has great expectations from the interzum Cologne Fair.
First of all, I think that the postponement of the last interzum Cologne Fair due to the pandemic will increase the participation and interest in the interzum 2023 Cologne fair. Mattregate attaches great importance to the interzum Cologne Fair, as it will have the opportunity to meet with its own customer portfolio face-to-face and meet potential customers, as it is a company that exports 95% in accordance with its policy and principles. In addition, in line with the awareness that our company is increasing its recognition in the foreign market in the spring group sector, to experience the current dynamics of the sector more closely, to enlarge the company's 3rd and 4th quarter targets for 2023, and to determine and enlarge the current target markets for 2024 are the biggest goals.
How will the fair affect your exports? Can we get your predictions?
Mattregate is proceeding in line with its export targets in the first quarter of 2023. As I mentioned above, we want to increase our export targets by participating in the interzum Fair and to exist in new markets. I think that interzum Cologne Fair will definitely contribute positively to our export targets.
What kind of impact do you expect the exhibition to have on the Turkish mattress components industry?
The Turkish mattress industry or the global mattress sector has been fluctuating in recent years due to many factors. However, as of 2023, I predict that the positive acceleration in the sector will increase with the effect of interzum 2023 and such global fairs.
I consider that the changing and developing Turkish mattress industry will also be positively affected after this extremely important and global fair is held.