Abdullah Nursaçan, Deputy General Manager of Milkay, evaluated the interzum Cologne Fair as the largest furniture fair in the world.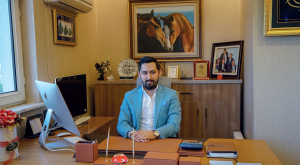 Expressing that the pandemic, war and global economic crises have changed the dynamics in world trade, Abdullah Nursaçan mentioned that the Interzum Cologne Fair will play an important role in determining the new dynamics. Evaluating the Turkish mattress components industry as a sector with a very high brand value, Nursaçan stated that the presence of many Turkish companies at the fair would be very beneficial for the Turkish mattress components industry.

What are your expectations from interzum Fair?
With the new international trade order that started with COVID-19, many variables and dynamics have traditionally been destroyed. Especially in the import and export part, we are stuck when the standard price approach stretches too far due to many different variables such as raw material prices and freight charges. For this reason, we already analyze and comment on the current situation in our target markets during our marketing research, travels and customer visits. However, our company, which exports to more than 70 countries, will not have the opportunity to visit that many countries in about 1 year. interzum Fair, bringing us together with our existing customers, bringing us new customers, is also a very important factor in our competitor analysis in the sector. In addition, it is an important event for us to reveal the brand value of our company, which exports to more than 70 countries, and to introduce our new products to our customers. In addition, our expectation from the interzum fair, which has become a tradition for us for years, is to gain new customers by introducing our new products to our customers.
How will the fair affect your exports? Can we get your predictions?
We hope that interzum 2023 will provide high added value for both exhibitors and visitors at the end of the process that started with the effect of the pandemic and continued with the global economic contraction. At the end of this fair, we hope to further develop our relationships with our existing customers and add new customers to our portfolio.

What kind of impact do you expect the exhibition to have on the Turkish mattress components industry?
interzum is the largest exhibition for the furniture industry world and brings together the manufacturer-customer portfolio from many parts of the world. In the mattress components industry, Turkiye has a serious potential and is a country with high brand value. Along with this fair, other components and manufacturers of the sector, such as Milkay Teknik Tekstil, will also highlight their brand values.