Pınar KUŞ, Member of the Board of Directors of NAPTEX, producing many components of the mattress such as fabric, spring, sponge and felt, cited the story and vision of her company in the interview she gave to our magazine.
NAPTEX Board Member KUŞ, in her interview; said that since they are both manufacturers and suppliers, they are uniquely positioned for company manufacturers. Reminding that they are sister companies with MUNDO mattress, KUŞ also mentioned the on-time delivery principle.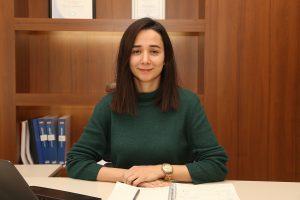 Ms. Pınar, can you mention your personal business life and the founding story of NAPTEX??
After completing my undergraduate education in French – Translation and Interpretation, I wanted to gain experience of living abroad before starting my business life and I participated in a project in France for 9 months. Thus, I traveled and got to know many European countries. When I returned to Turkey, I knew what kind of job I wanted to work in. I met the mattress sector in 2011. For eight years, I worked with more than 100 countries, got to know the mattress culture of each, and visited the productions of many mattress manufacturers on site. At the same time, since we have been in direct contact with mattress raw material suppliers for years, I had the opportunity to get to know the companies in the supply chain closely.
I was lucky to learn foreign trade from a master like Mustafa Nebi Doğan, who has a visionary personality and left a lasting impact on the mattress sector in Turkey. The biggest lessons for me are the intricacies of foreign trade, the culture of travel, mattress machinery; mattress components, mattress manufacturing, and more importantly, I've learned to value and respect our suppliers, partners, customers and vendors. With the support of Mustafa Nebi Doğan, we have crowned my 8-year industry experience, which started with machinery exports, by establishing our own company NAPTEX this year.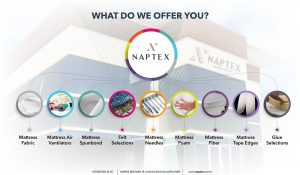 As NAPTEX, you produce intensively for the mattress sector. Which components of the mattress do you serve??
As NAPTEX, we provide all the raw materials that a mattress manufacturer will need in various qualities, under one roof, with reasonable prices and fast service principle. We are in a unique position to assist mattress manufacturers. What makes us different in the industry is that we better understand the needs and expectations of our customers by looking from the perspective of both the manufacturer and the supplier. It is because we also manufacture mattresses with our sister company MUNDO mattress. Thus, we can look at our business from two sides. Since we have the ability to adapt quickly to the changes in the sector in our own production, we also guide our customers, the mattress manufacturers, to adapt quickly to the changes.  Being in production allows us to control quality and offer highly competitive pricing with superior components and technologies. The company's growing product range includes fabrics, springs, sponges, felts, yarn ribs, air capsules and other accessories. We provide a wide range of products from economical to innovative. While buying and selling the products, we show the same attention and care to our customers as we pay attention to what we pay attention to in our own production.
Can you mention your export policy?
We mainly work with African and European countries. It is to be able to work with mattress manufacturers operating in various countries and continents in line with our export policy.
Can you mention your company's future goals and the vision you have developed in line with these goals?
As NAPTEX, what we offer to mattress manufacturers is not only raw material procurement, but also a fully comprehensive procurement approach such as production models, product collections, marketing strategies, production consultancy. We aim to keep customer satisfaction at the highest level and to expand our customer network in the coming years by successfully carrying out the "on-time delivery" standard in exports with the advantage of its geographical location.