The company, which offers its products to its customers with the best technology, receives the return of its investments in the future from today.
Form Sünger, which started its activities in 2002, has managed to become a well-known brand all over the world in a short time with the thought of quality production and effective service. Growing day by day with its future-oriented investments, the company is one of the leading brands in the sector. Providing service in automotive, home textile, insulation and many other areas with its products that offer comfort to life, Form Sünger uses the best design and high technology together. We received information from Metin Uğur, the General Manager of Form Sünger, which is one of the most important brands in the sector, about the values they add to the sector.
How was 2020 for you? How did you go through the pandemic period?
We had a very good start to 2020, but due to the global problems caused by the pandemic, we encountered many problems such as shortage of raw materials, serious price increases, products not being dispatched etc. While these issues caused March, April and May to be realized below our targets, with the lifting of the restrictions in June, we exceeded our targets in the rest of the year and we closed the year by reaching the all-time values at the end of the year.
Can I get information about your production capacity and product range? Also, what are your usage areas?
We make our production in our two factories in Kayseri O.S.B and İncesu O.S.B, equipped with the latest technology and having the best automation in their field. We have an annual production capacity of 2.100.000 m³ flexible foams, 1.200.000 pieces of visco pillows, and 4.500.000 roollpack mattresses with cover in a total of 220.000 m² open and 81.000 m² closed area, with 68 white and 455 blue collar employees.
By casting foam blocks in continuous lengths of 30 and 60 meters in the range of 140-240cm, we are able to cut roll, flat, contour, profile types, and manufacture bonded mattresses. We have the foam crushing and the vacuuming technologies.
We produce polyurethane foam, visco pillow (with or without cover) and foam mattress (with or without cover, hybrid bonded mattress) and we have the highest capacity in the country in these fields. We rank first in the production of polyurethane flexible foams with a capacity of 30% domestically.
Polyurethane foams differ in terms of their physical and chemical properties.
Closed and open cell visco foam (can be produced in various density and hardness according to)
High elastic foam known as HR in the sector, and technology applied special products are produced by us and presented to the use of our customers.
With the production of polyurethane foam, we serve to the main sectors such as furniture, bed, auto, underwear, shoes, lamination, insulation, underwear..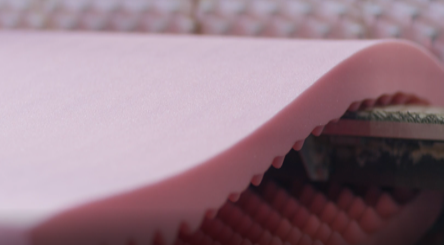 Which of your products are more in demand?
Owing to our high production capacities, having all the technologies in the sector, having no supply problems, offering many alternatives to our customers and our quality production, all of our products we have mentioned above are in great demand.
What kind of R&D and innovation processes do you have? Do you think the industry needs more different products?
Although the innovation in the sector depends on the developments and changes on the raw material side, different products can be produced by applying different technologies. We have an R&D unit, we follow the developments in the sector closely and we can make different raw material trials with our R&D machine. Owing to our TSE-approved Laboratory that can serve outside the company, we can control raw material input, see the test results of the products in the series and newly developed products, and analyze the results.
Our products such as EUROPUR Award-Winning Visco Pillow, Bamboo FORM, Carbonfiber, EcoGreen FORM, CopperGell FORM, Bentonite FORM, Black Diamond… are our innovative products with different technologies.
The biggest problem in our industry is the high amount of waste caused by foam cutting operations. There are technologies to recycle the waste into raw materials, but the amount of the investment needed can reach to very high levels. In mid-2020, we succeeded in recycling the waste into raw materials with the studies we did with our own means. This was our best work in an innovative sense. Our development and enlargement studies continue in order to use our pilot-scale work in an industrial sense. We continue to develop and enlarge our pilot scale work in order to use it industrially. If the remaining part of this project is realized, our contribution to the country's economy and the environment will increase more.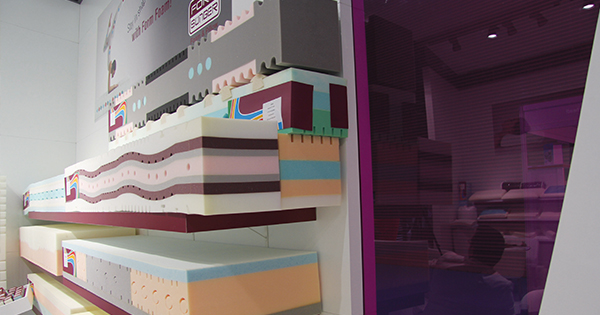 How do you provide raw material supply?
Since the raw material is not produced domestically, we make our supplies by cooperating with the biggest producers in the sector, which will enable us to make our production uninterrupted and of high quality.
What is the main factor that makes your products different in the industry? I would like to know your thoughts on this subject.
It is our difference that; a good system is established to produce fast and high quality without interruption even under all kinds of adverse conditions.
Which countries do you export to and what is your export target for 2021? Also, what is the ratio of your exports to your total sales?
We export to nearly 100 countries and more than 250 customers. The ratio of exports to our total turnover is 25%. We aim this value to be 30% in 2021.
Finally, I would like to learn about your goals in the industry.
Our goal; to be up-to-date with the capacity required by the market with our new investments, by always being involved in the change and developments occuring in the sector.