Spanish company Torres Espic knows the importance of choosing good raw materials very well for producing a quality mattresses. The company is looking for clients for a long term relationship.
We made an interview with Rafael Torres Sánchez, CEO and Shareholder of Torres Espic, about their export activities and feeling for the Turkish market.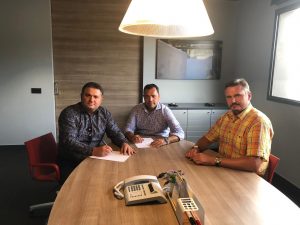 What are the facts that led you to make production in the mattress sub industry? Could you explain position of your company in your fields of production?
Polyurethane flexible foam is a very important raw material to be applied on rest products as it provides features like comfort, support, prevention and insulation. That's why it's so important in bedding industry and why we focused our company to be specialized on it.
Could you brief us about your products and give us some examples about your leading customers and famous brand that prefer your products?
We produce mainly special foams with high technology concerning physical properties as well as added value on special features. We deal worldwide with companies like Pikolin group, Hilding Anders, Colchones Rosen, Manifattura Falomo, some Simmons, King Koil and Therapedic licensees, etc
Do you have anything to say about eco-friendly production applied by your company?
Since 2000 we have been trying to lead "eco" policy on our foams, taking care more and more about health for our clients and final end consumers. As examples, we fulfill Oeko-Tex Certificate Class I since 2002, we already developed at that time foams with soya oil unmodified genetically, not using biopolyols, new foams under brand Neropur®, etc.
Could you tell us about your machine park and your facilities?
Torres Espic S.L. has been a leader in terms of automation in our industry. We currently run many automatic lines for foaming, converting and gluing.
What would you say about supplying of raw materials needed for mattress production from domestic or foreign sources?
I think it's very important to choose and use good raw materials, quality and healthywise, for mattress manufacturing, as we spend a huge part of our life on bedding equipment, which means, we must take care for ourselves.
Which fairs do you attend in domestic and foreign market? Have you already set your schedule to participate in fairs in 2020?
We try to support our partners at fairs on their countries. Hope to plan strategy for 2020 soon.
To what extend do you have business relations with Turkey in terms of import and export?
We were exporting in time to a Turkish mattress manufacturer, but we're seriously now working to introduce our products in Turkish market through our agent partner Innova Bedding. We're looking for clients for a long term relationship here in Turkey.
Which countries do you export and which ones do you target?
We're currently exporting to five continents, from America to New Zealand. But we're targeting to grow in Middle East and Asia as we have recently an office in South East Asia.
Anything would you like to add?
I'd like to thank the Turkish market to welcome us and hope to help people with our products, through our customers, for a better rest and a better sleep.
#value added foams, #torres espic, #Spanish company, #raw material, #comfort, #prevention,