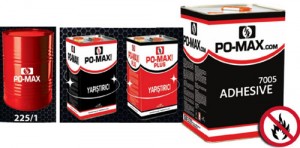 Producing glues and adhesives for the furniture and footwear industries under Pro-Max brand name, Yapi Lider Company aims to grow in new markets with new investments.
The products of the company are also sold to mattress manufacturers who need non-flare, nonodor adhesives. Kaya Kirikkaya, marketing and sales manager of the company informed about his company and their future plans.
On Lider Chemicals company
Lider Company was established in 2003 to produce foam glues used in the furniture and mattress industries. Earlier it used Lyk Pomax brand for its products. Lately the company produces adhesives for furniture, office furniture, footwear, insulation and automotive industries. Products are both exported and sold in domestic market.
On glues product for bed industry
We produce soft adhesives and glues for soft materials used in the manufacturing of spring beds, visco beds, coaches, and office furniture. They are non-flare, odor-free and stick in 0 to 3 minutes or longer periods if it is preferred.
On the importance of glues for bed manufacturers
Quality control is the first step of our process. The materials then put into process and turned into adhesives. After packaging they are sent to quality inspection and then they are delivered to buyers. Beds are made of many different materials and take one third of the human life in sleep. Sleeping is not only good for health but also for comfort. It is important that the glues are made of natural materials for the health of humans.
On exports and export markets
Yapi Lider Kimya company exports more than % 85 of its production to 26 export markets including Russia, Egypt, Rumania, Greece, Morocco, Saudi Arabia, Bulgaria, Dominican Republic, Serbia, Algeria, Azerbaijan, Iran, Tunis, Libya, Kuwait, Jordan, Yemen, UAE, Turkmenistan, France, Pakistan, Tajikistan, Uzbekistan and Kyrgyzstan. We load partial or full container loads to these markets regularly. Next year we will be active in Latin American markets when our new facilities become operational.
On last year's performance
We already reached our target in the beginning of the December for 2014 Target so the sales in December is extra additional for us. This year was low loss and we increased quite much our export sales and the number of countries volume. So, 2014 was very fruitful for Yapi Lider Kimya. However, the sector was affected negatively as the first quarter is calm, the bothers due to the lack of the raw material in the last quarter, fluctuation in the currency and its affection to the prices. Extreme competitive is also an obstacle on investments in the sector. The profitability continues on very low stages as the supply is much more than demand and even the exceed on credits for the payments take the profits We would firstly like to continue to work as a team, keep our quality production without compromise. Besides, we aim to enlarge our product range and to be opened to new sectors to increase our profitability and most importantly to invest to the sector.
For development
As you know, we service to the furniture and mattress sector so this is important for us that the sector has a voice throughout the World. Our producer companies in Bursa-Inegol, Kayseri and other cities should think the whole World. It is crucial that World local companies should carry their visions. What is important for us is to produce and service practical products in operation as quick as possible with quality raw materials, harmless to human health to the furniture and mattress producers.