Zübeyde Yılmaz, General Manager of Yılmar Çelik said that they believe that the international trade volume, which has been interrupted due to the pandemic and war, will rise again thanks to Interzum and similar fairs.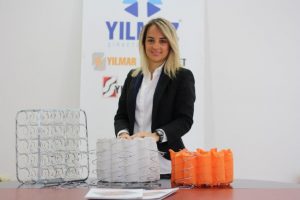 Making a statement before the fair, Yılmar Çelik General Manager Zübeyde Yılmaz said that the fact that Interzum Fair, which has not been held for 4 years, will be held this year, will generate a good dynamism in the sectors. Stating that the extraordinary increase in raw material prices and logistics costs due to the pandemic and the Ukraine-Russia war, both the mattress supplier industry and the iron-steel sector, which is one of the components of the industry, adversely affected, Yılmaz expressed her wishes that the upcoming period would yield good commercial developments.
What are your expectations from Interzum Fair?
We aim to meet visitors from 14 target countries for Turkiye such as Europe, Middle East, America, North Africa, Russia and Commonwealth of Independent States countries. Interzum Fair, where the latest technologies and innovative products are exhibited, makes a great contribution to the business volume and value-added product development as it brings together all the users of the industry.
How will the fair affect your exports? Can we get your predictions?
The fact that this fair, which is held every 2 years, had to be held digitally last time due to the pandemic has reduced its effectiveness. Industry players missed getting together. I think it will be a very lively fair for competitor analysis and follow-up at the level of developments. The Ukraine-Russia war badly affected the steel industry. The disruption of the world supply chain due to energy costs, labor costs for our country, raw material constraints and logistics has eliminated many players in the new period. Companies that have managed to survive even if they shrink in this challenging period will take an active role in the fair.
Although the export volume is stagnant, I think this fair will trigger the accelerating process of getting used to the ongoing new economic order. We have a prediction that exports will increase after May. I think price competition will continue but demand contractions will come to an end. With the exception of the pandemic period, I believe we will return to the stable growth and export levels of 2020.
What kind of impact do you expect the exhibition to have on the Turkish bearing components industry?
When we look at the numerical size of the mattress sub-industry sector in Turkiye, we see that the export rates are at the top. As a category, we need these fairs to help branding a sub-industry sector apart from the bed industry in Turkiye more worldwide. IBIA Fair, which was organized in Turkiye with the example of Interzum, will pave the way for the development in Turkiye and the export volume.