The company attaches great importance to the demands of its customers at every stage of its production and expands its vision according to the wishes of its customers. MTT Makina draws attention with its production diversity and product quality.
MTT Makine, which has been producing machines for the furniture and advertising industry since 2015, has proven its quality to all its customers. The company, which is preferred and appreciated by everyone, continues to be a solution partner in the processing of wood, aluminum and composite materials. MTT Makina manufactures its products according to the demands of its customers and manages to become one of the most important companies in the sector with its efficient production infrastructure.
The company adopts the national capital culture and contributes to domestic production. Combining affordable cost and high quality, the company continues to work under the best technological conditions. MTT Makina offers a fast and effective solution for the biggest industrialists of the country with its young and expert team in a closed area of 1600 m2.
Building its vision on customer satisfaction, the company closely follows technology. MTT Makina also continues to develop its products with its own team in R&D and innovation. The company, which makes a great contribution to its customers both in sales and after sales, makes a variety of products according to the demands and wishes of its customers. We talked to Ahmet Yasin Büyükkeçeci and Şaban Emre Gürbüz, the company partners of MTT Makina, which is open to development and has big goals, about the company's future plans.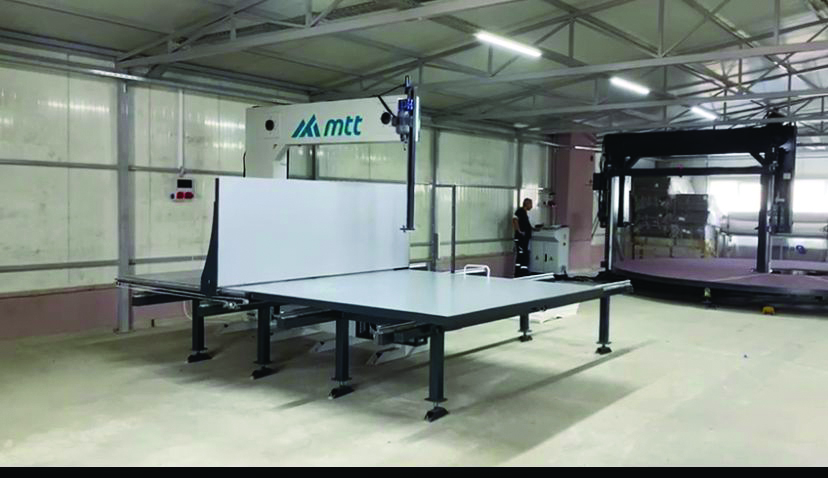 How did your journey in the industry begin and how is it going now? I would like to start my questions by getting general information about your plans and projects.
First of all, we started our activities with the production of foam clipping machines, which form the basic structure of foam recycling. Afterwards, we set up project-based facilities and diversified our machine production according to customer demands.
When we entered the sector, we started to produce clipping machine bondex (recycled foam) casting machine, circular horizontal cutting machine, vertical machine, sugar clipping machine and roll peeling machine. We are currently mass-producing the machines i mentioned.
Could you please give information about your production capacity and product range? Also, i am curious about your usage areas.
Our production capacity consists of different machines every month and we produce 6 machines every month. These machines are foam clipping machine, bondex foam casting machine, circular horizontal cutting machine, vertical cutting machine, sugar clipping machine and roll peeling machine.
Foam clipping machines ensure that the wastes from the foam used in the furniture industry are re-trimmed and recycled and used. Bondeks foam casting machines help the clipped foams to be re-blocked and used. Circular horizontal cutting and vertical cutting machines cut the foam blocks according to the user's request and provide minimum cost and maximum efficiency in the products.
What is your most requested product?
Foam trimming machines, circular horizontal and vertical cutting machines are our most demanded products.
What are your thoughts on R&D and innovation processes?
We are constantly conducting R&D and innovation studies on the machines we have produced. Considering customer demands, we are constantly improving ourselves for new, easy, fast and quality production. We can say that the industry needs more different products. Our CNC foam cutting machines are at a very important point for us as a result of our R&D studies. We continue to work to make innovative products.
I would like to learn about the main reasons that make your products different in the industry. How would you describe this situation?
We use quality materials for our products and have an efficient working capacity. These are the main factors that make us different. In addition, after-sales support is one of the issues that we attach the most importance to. That's why we are preferred.
Which countries do you export to and what is your export target in 2021? Also, what is the ratio of your exports to your total sales?
We export to the Middle East, the Caucasus, the Balkans and North Africa. Our goal in 2021 is to increase our capacity and focus on exports even more. Thus, we aim to increase our exports, which constitute 30% of our current sales, and contribute to our country.